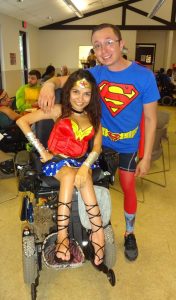 In less than a year, the SMA community could possibly have a drug!! We are that much closer to treatment.
For those who are completely out of the loop:
I have Spinal Muscular Atrophy (SMA), a debilitating muscle disease of the major limbs (arms, legs, lungs, neck, etc.) There are 3 different types of SMA, Type 1 being the most severe. Most children are on feeding tubes by the age of about 8. Those with type 2 usually were never able to walk. And those with type 3 can usually walk until the age of about 12. This disease does not allow us to gain muscle, only lose or maintain what we have. Through these clinical trials, results have shown babies actually reaching milestone goals such as crawling and walking and even something as simple as keeping their heads up. All milestones which type 1 babies usually never reach.
I'm overwhelmed by the steadfastly results and all the futures that are going to be saved and changed when this treatment becomes available.Now I know what some of you may be thinking and no this drug isn't going to just magically make me walk. But it will allow me to gain muscle so I will be able to be more independent. My SMA is far too progressed to be able to expect a miracle out of this drug. I would need many of surgeries first so i don't think it would even be worth it.
Having to rely on other people truly fucking sucks but I have no choice but to make the best out of it if I don't want to be miserable every single day.
The main thing that sucks about relying on other people is having to use the bathroom. I can push aside hunger or a glass of water for an hour or two until my next Personal Assistant shows up, but having to use the bathroom and being forced to wait for it is the worst feeling in the world.
What I've learned from being in a Facebook group of other people with Muscular Dystrophy is that we all have similar struggles. And one of them is pee math.
Pee math is a mental algorithm we (those who cannot use the bathroom by themselves) created by the time we got our first wheelchair. So probably around the age of 3. Pee math is deciding how much to drink before your next Personal Assistant is scheduled to come help you. Pee math allows you to learn very important things about yourself…. aka how long it takes for your body to digest things. Mine takes an hour or more. So if my PA gets me up at 9am and the next person isn't scheduled until 3pm, I would drink lightly or only if I was extremely thirsty until about 1:30. Then I wanna start drinking as much as I can to make sure I get all my fluids in but am able to release it all when I have someone there to assist me.
It's very shitty I know. But it's a lifestyle I've subconsciously accustomed to.
Well. Back to the drug that's hopeful to come in the next few months.
I am beyond excited that I will finally be able to work out and actually feel like I'm improving myself. Right now, without the drug, I should be doing physical therapy everyday but I'm so discouraged by the fact that I'm never able to gain anything from it. When this drug comes out I will be able to buy cute workout clothes and actually use them for their purpose….. real talk. So many cute things. But seriously, I might just become a gym rat. And I'm excited.
I've lived my entire life in a wheelchair and finding myself and making something of myself. And I'm proud of that person thus far. Though, I'm not going to lie, I absolutely have spent nights wondering what my life would be like if I did not have SMA and could walk… but I'm also not crying at the fact that I can't or will never be able to.
This drug is really exciting to me because I will be able to gain more independence, even just by the simplest of tasks like opening a door on my own. My main focus goal in the long run will to be able to transfer myself in and out of my chair. Specifically to be able to use the bathroom on my own. It is the most difficult yet simple task in my life that holds me back in any way. To have to make sure that if I want to travel any place I will need someone to be there to help me use the bathroom is one of the hardest obstacles I have to deal with on a daily basis.
With this drug, I will work my ass off as much as I'm allowed to- to get to my goal in the long run. My independence is the most fundamental aspect of my present and future.
Updated edit: Spinraza was approved by the FDA December 2016!